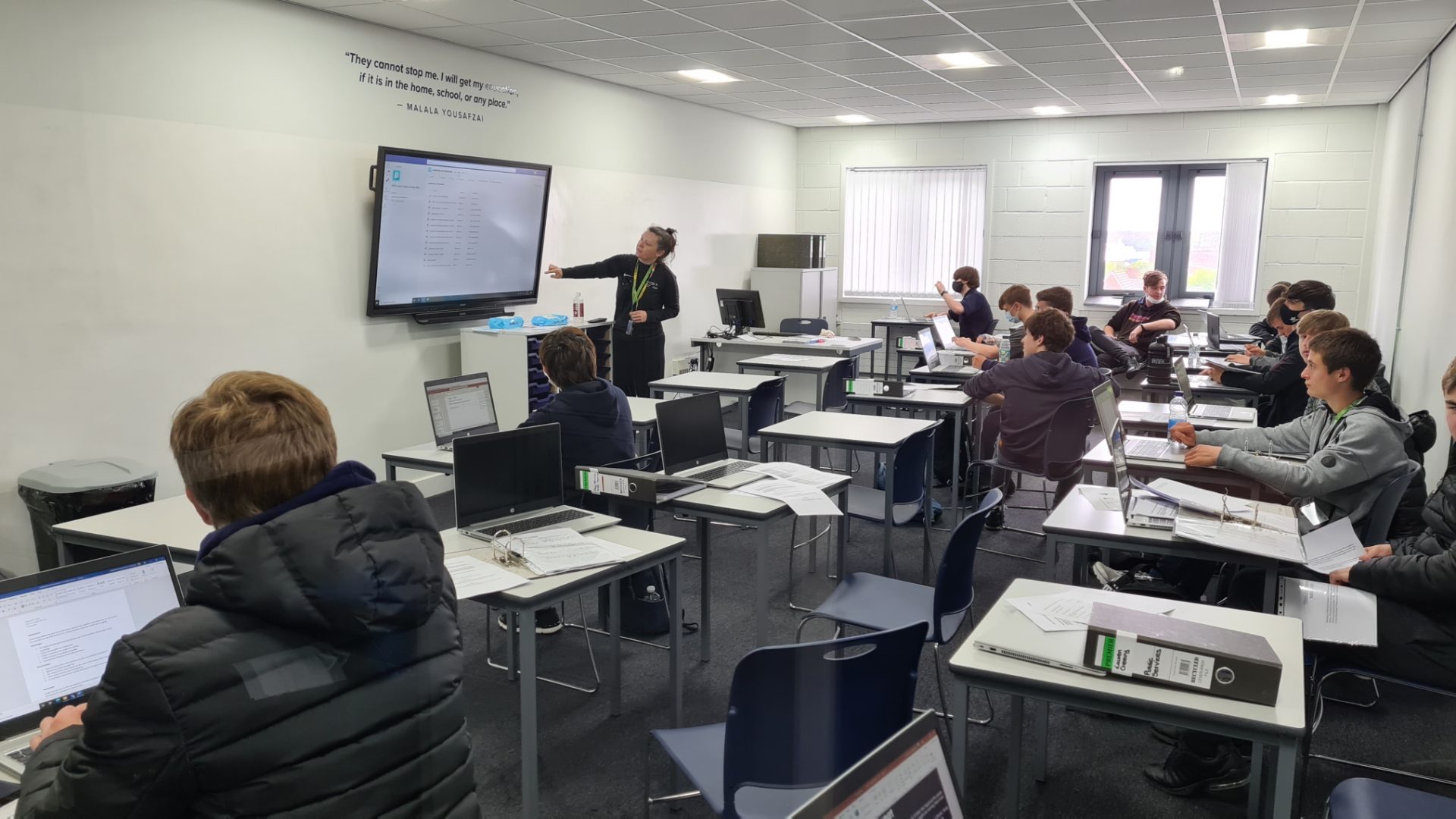 Blue orange helps change the face of education
A pioneering college is at the forefront of a learning revolution – launching a multi-million-pound blueprint to transform the dynamics of education – with the help of Blue Orange IT.
Liverpool's Hugh Baird College is home to more than 5,000 students on over 300 courses where technology is at the heart of a groundbreaking vision to create more compelling, inviting and engaging lessons. The Bootle-based college is determined to futureproof learning for generations to come and 're-write the education rule book'.
The innovative concept involves the creation of collaboration walls with giant touchscreen displays, handheld mobile devices and more flexible room layouts where the traditional teacher isn't always stood at the front of the class. It's being hailed as a game-changer.
The multi-party 'team effort' includes support from IT specialist Blue Orange, who play a leading role installing the high quality displays from electronics giant Sharp.
"The Future Classroom Concept is based on a teacher being more in the centre of the room instead of at the front with a traditional board – so the students become immersed, can better interact and learn more quickly and intuitively," said Director of Facilities and Technical Services at Hugh Baird College, John Billington. "In many ways classroom layouts haven't changed in over a century."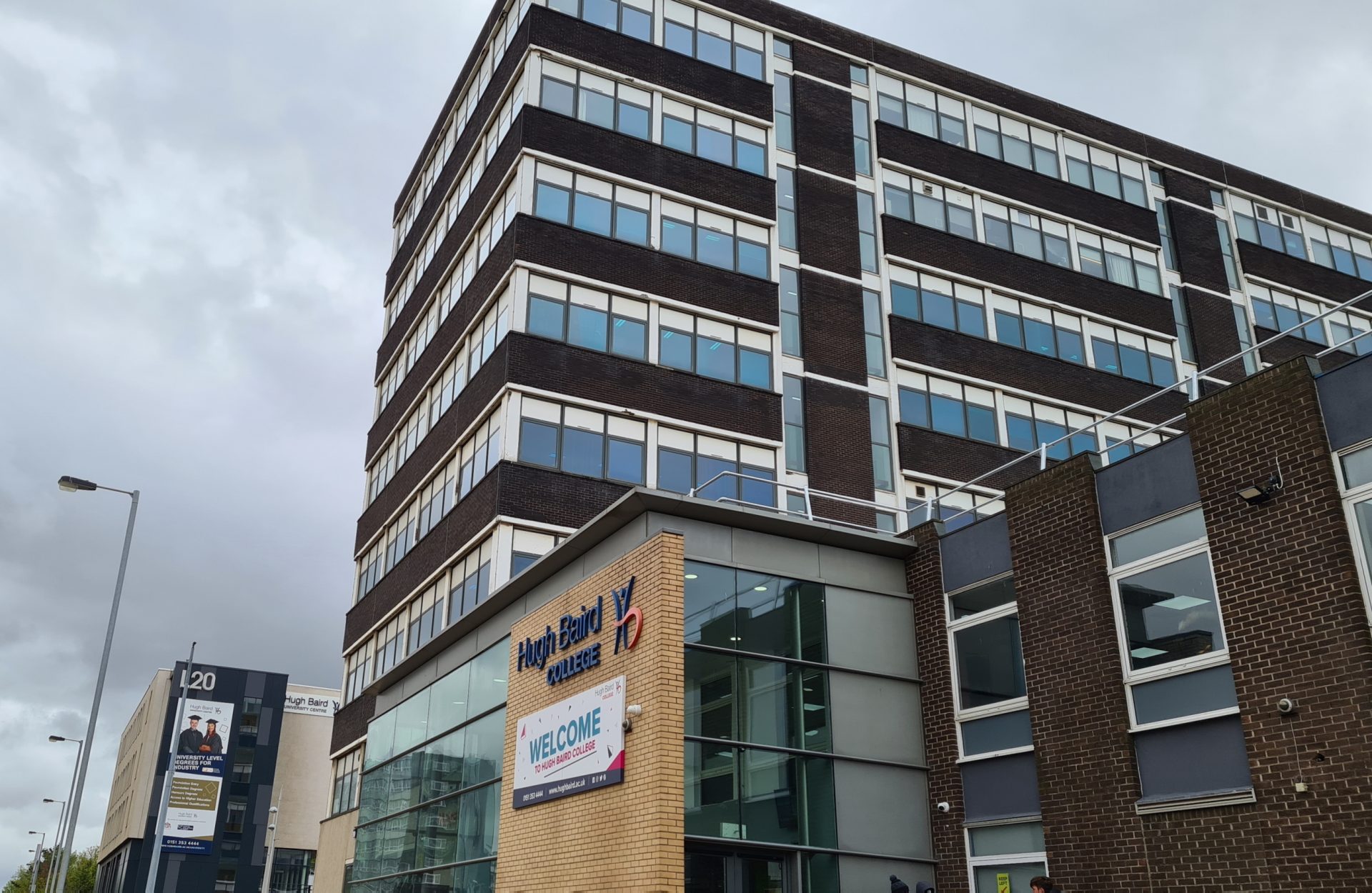 Purpose-built site
An initial £500,000 investment spanning 15 rooms was just the start. The college has around 250 rooms and is prioritising and rolling out the programme on a step-by-step basis. Eventually it plans to move to a purpose-built more cost-effective site.
John continued: "We initially set up a Future Learning Programme a few years ago and the idea behind it was to look at our classrooms, identify what was wrong with them and most importantly identify what the classrooms of the future would look like. There was heavy emphasis on accessibility and how the rooms impacted on learning and made it more or less conducive.
"One of the first areas we moved forward was the collaboration walls – finished in specialist paint to transform them into whiteboards which can be wiped down. It was brought in as a trial at first and quickly made a great impact. The entire wall was rebuilt, an inspirational message was included and they enable students to stand up and collaborate on projects together. This proved you just need a pen and the right people to work together to achieve great things – in the right learning environment."
Government funding for general refurbishments was secured and the project accelerated further forward where 15 rooms were initially transformed, including flexible furniture and smaller desks to create more space between.
"In my opinion this is a groundbreaking vision of education for the future which is destined to be followed by other learning establishments too," John emphasised.
"This is a building dating from 1973. Making it look appealing and inviting to both staff and students was at the core of the initiative. Often desks were older than the students that sat at them. We wanted to make the rooms much more vibrant and conducive to learning. It's been received really well by everyone. Staff and students can choose the way they want the rooms to be organised. Small furniture is great for social distancing too. It's adaptable and the introduction of handheld mobile devices such as tablets is much better than static computers where students face monitors away from each other.
"Our plans are to eventually leave this current building over the next three to four years and create a purpose built complex. These current concepts will be a huge part of our future."
Top marks
Flourishing IT specialist Blue Orange is delighted to have earned top marks. The company has installed 65 and 75 inch Sharp touchscreens in a series of refurbished classrooms.
"The screens are used as interactive touchscreens which are complemented by the writing walls. The screens are all network connected to enable many web-based applications that further bring education to life," says Blue Orange Director Darren Hanley. "We've installed over 100 screens on site over the years but this latest project was even more special. The initial 15 screens are being followed by another 13."
The Hugh Baird project is another significant step forward for Adlington-based Blue Orange. The company specialise in remote and on-site IT services as well as hardware supplies to companies, schools and colleges throughout the country.
John concluded: "The look and feel of the rooms is crucial. The students adore the collaboration walls and the use of mobile devices particularly. It's something the students deserve. This has raised the game of education.
"We did meet a bit of resistance at the beginning. People don't like change and some were sceptical. But we wanted to remove the front of the room and make the centre of the room its heartbeat. We had a long discussion about how classrooms hadn't changed from the 1900's where a teacher just stood at the front teaching from a board. We now have flexible furniture and hi-tech devices for modern learning.
"The next set of rooms will have more than one screen for multidirectional learning. It helps break down barriers and creates a whole new dimension of learning. Collaboration is key.
"Blue Orange is a growing, very flexible and amenable company. They are helping us achieve our goals. We like the robust nature of the Sharp screens as well as their exceptional clarity and quality of image. They came out on top after a very comprehensive tender. Overall everyone is delighted by the project. Learning is best when people work together. We're almost re-writing the education rulebook!"